Why is it important to inhibit PDE-5?
PDE-5 is a naturally occuring enzyme responsible for degrading cyclic guanosine monophosphate (cGMP), an essential component in vasodilation2
PAH is associated with the impaired release of nitric oxide (NO) by the vascular endothelium in the pulmonary vasculature and an associated decrease in the synthesis of cGMP in smooth muscle cells3
Once-daily ADCIRCA acts on the NO pathway via PDE-5 inhibition to increase vasodilation in the pulmonary vasculature3
Click here to learn more about how ADCIRCA can benefit your patients with PAH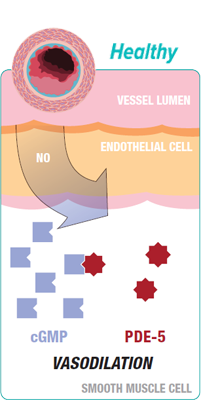 NO leads to vasodilation by increasing cGMP levels4
PDE-5 is a naturally occurring enzyme responsible for degrading cGMP, helping to maintain normal vascular tone2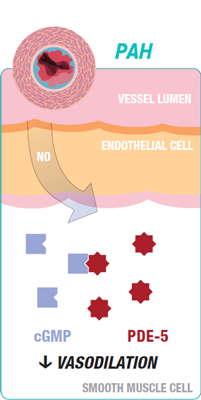 In PAH, PDE-5 expression is increased; the cGMP is degraded by PDE-54
Diminished cGMP leads to impaired smooth muscle cell relaxation and, therefore, impaired vasodilation2
This produces increased pulmonary arterial pressure, pulmonary vascular resistance, and obstruction of the pulmonary arteries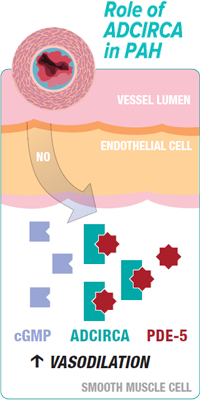 ADCIRCA binds to PDE-5, limiting the degradation of cGMP3
Inhibition of PDE-5 enhances endogenous NO-mediated relaxation of pulmonary vascular smooth muscle cells and vasodilation of the pulmonary vascular bed5,6,7
Important Safety Information for ADCIRCA® (tadalafil) tablets
CONTRAINDICATIONS
Nitrates and Guanylate Cyclase (GC) Stimulators: Do not use ADCIRCA in patients taking medicines that contain nitrates or guanylate cyclase stimulators (such as riociguat), as the combination could cause a sudden, unsafe drop in blood pressure. Do not use nitrates within 48 hours of the last dose of ADCIRCA.
Hypersensitivity Reactions: Patients with a known serious hypersensitivity to tadalafil should not take ADCIRCA
WARNINGS AND PRECAUTIONS
Cardiovascular: Patients who experience anginal chest pain after taking ADCIRCA should seek immediate medical attention
Hypotension: Phosphodiesterase 5 inhibitors (PDE-5is), including tadalafil, have mild systemic vasodilatory properties that may result in transient decreases in blood pressure. Before prescribing ADCIRCA, carefully consider whether patients with underlying cardiovascular disease could be adversely affected by such actions.
Worsening Pulmonary Vascular Occlusive Disease: Pulmonary vasodilators may significantly worsen the cardiovascular status of patients with pulmonary veno-occlusive disease (PVOD) and administration of ADCIRCA to these patients is not recommended
Vision/Hearing: Patients who experience a sudden loss of vision in one or both eyes, which could be a sign of non-arteritic anterior ischemic optic neuropathy (NAION), or sudden decrease or loss of hearing after taking ADCIRCA should seek immediate medical attention
Prolonged Erection: In rare instances, men taking PDE-5is (including tadalafil) for ED reported an erection lasting more than four hours. Male patients who experience a prolonged erection should seek immediate medical attention
SPECIAL POPULATIONS AND POTENTIAL DRUG INTERACTIONS:
Special Populations (Pregnant or Expecting Pregnancy): Limited data from case series with tadalafil use in pregnant women have not identified a drug-associated risk of major birth defects, miscarriage or adverse maternal or fetal outcomes. Pregnant women with untreated pulmonary arterial hypertension are at risk for heart failure, stroke, preterm delivery, and maternal and fetal death.
Special Populations (Renal or Hepatic Impairment): The use of ADCIRCA is not recommended for patients with severe renal or hepatic impairment. Please see Full Prescribing Information for dosing recommendations for patients with mild to moderate renal or hepatic impairment
Potential Drug Interactions: The use of ADCIRCA with alpha blockers, blood pressure medications, or alcohol may lower blood pressure significantly and may lead to symptomatic hypotension (light-headedness or fainting)
Potential Drug Interactions: Tadalafil is metabolized predominately by CYP3A in the liver. Use of ADCIRCA with potent CYP3A inhibitors, such as ketoconazole and itraconazole, should be avoided. For patients on ADCIRCA therapy that require treatment with ritonavir, ADCIRCA should be discontinued at least 24 hours prior to starting ritonavir. For patients on ritonavir therapy that require treatment with ADCIRCA, start ADCIRCA at 20 mg once a day. Use of ADCIRCA with potent inducers of CYP3A, such as rifampin, should be avoided
Potential Drug Interactions: ADCIRCA contains the same ingredient (tadalafil) as Cialis®, which is used to treat erectile dysfunction (ED) and the signs and symptoms of benign prostatic hyperplasia (BPH). The safety and efficacy of combinations of ADCIRCA with Cialis or other PDE-5is have not been studied. Therefore, the use of such combinations is not recommended
ADVERSE REACTIONS
Adverse Reactions: The most common adverse event with ADCIRCA is headache (42% ADCIRCA vs 15% placebo). Other common adverse events (reported by ≥9% of patients on ADCIRCA and more frequent than placebo by 2%) include myalgia (14% vs 4%), nasopharyngitis (13% vs 7%), flushing (13% vs 2%), respiratory tract infection (13% vs 6%), extremity pain (11% vs 2%), nausea (11% vs 6%), back pain (10% vs 6%), dyspepsia (10% vs 2%), and nasal congestion (9% vs 1%)
ADC.ISI.HCP.SEP2020
For more information about ADCIRCA, please see the Full Prescribing Information and
Patient Information or call 1-800-545-5979.
References:
Data on file, June 2016.
Ghofrani HA, Pepke-Zaba J, Barbera JA, et al. Nitric oxide pathway and phosphodiesterase inhibitors in pulmonary arterial hypertension. J Am Coll Cardiol. 2004;43(12 suppl S):68S-72S.
ADCIRCA [package insert]. Indianapolis, IN: Eli Lilly and Company; 2020.
Wharton J, Strange JW, Møller GMO, et al. Antiproliferative effects of phosphodiesterase type 5 inhibition in human pulmonary artery cells. Am J Respir Crit Care Med. 2005;172(1):105-113.
Hampl V, Herget J. Role of nitric oxide in the pathogenesis of chronic pulmonary hypertension. Physical Rev. 2000;80(4):1337-1372.
Humbert M, Morrell NW, Archer SL, et al. Cellular and molecular pathobiology of pulmonary arterial hypertension. J Am Coll Cardiol. 2004;43(12) (suppl S):13S-24S.
Rybalkin SD, Yan C, Bornfeldt KE, Beavo JA. Cyclic GMP phosphodiesterases and regulation of smooth muscle function. Circ Res. 2003;93:280-291.